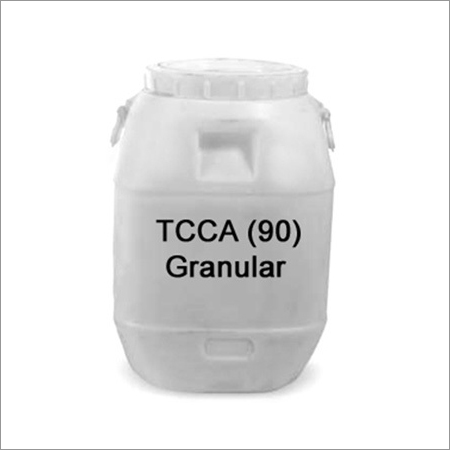 Trichloroisocyanuric Acid TCCA-90
Product Description
Based in Dahisar, Mumbai, we are the renowned manufacturer and supplier of Trichloroisocyanuric Acid TCCA-90 to our esteemed clients. It is a type of organic compound which is widely used as a disinfectant for swimming pools. This chemical compound is used as disinfectant, algicide, & bactericide which is made from cyanuric acid by reacting chlorine gas and sodium hydroxide. Offered Trichloroisocyanuric Acid TCCA-90 is a white crystalline solid having strong chlorine like odor, and is available in powder & tablet form.
Features:
Soluble in acetone


Can cure disease to fisheries


Provides long term effects

Trichloroisocyanuric Acid TCCA-90
TCCA-90 is used as a disinfecting agent in swimming pools and fountain water bodies and helps in achieving sparkling clean and clear water. Our TCCA-90 provides long-term effects in keeping swimming pools free from bacteria and algae.TCCA-90 can be used in water treatment especially in swimming pool water treatment, drinking water treatment, algae removing of industrial circulating water, treatment of industrial and sewage.