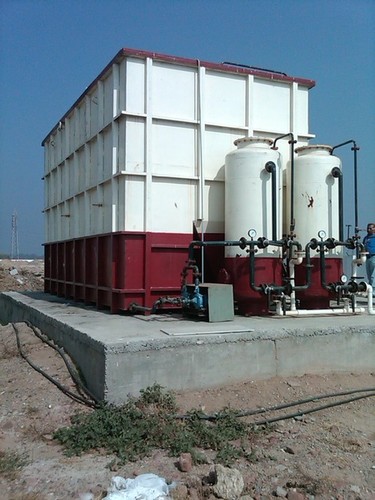 Sewage Treatment Plant
Product Description
With an aim to be a leader in our domain, we are engaged in business of manufacturing Sewage Treatment Plant. This plant is required to process waste water generated from household and various industrial processes. It consists of series of assemblies including agitators, filters, waste collectors, mixers, and pressure boosters. By-product of this treatment is known as sludge or slurry which is later processed to ensure safe discharge. We offer Sewage Treatment Plant in different customizable configurations and at competitive prices for our respected customers.
Features:
Highly efficient

Strong construction

Heavy duty performance
We offer Sewage treatment plant with MBBR and FAB process. Ideal for treating effluent, sewage, waste water generated by large colonies, hotels, hospitals and institutions/commercial buildings and others. The entire package unit is skid mounted and can be installed near to the effluent /sewage / waste water receiving underground tank. After treatment, the treated water can be reused for gardening or can be disposed off. Further, the packaged sewage treatment plant uses all the treatments of activated sludge process.
Aeration by air diffuser in presence of MBBR / Fab media to increase the dissolved oxygen and decrease the BOD.

Sedimentation of bio mass in Clarifier with tube settler.

Filtration through Pressure Sand Filters and Activated Carbon Filters

Chlorination, Ozonation, UV sterilization for disinfection
For treating effluent, sewage or waste water generated by large colonies, Hotels, Hospitals and institutions / commercial buildings Novatech offers compact sewage treatment plants. The treated effluent water can be further polished through Tertiary treatment with Filtration plant, Activated Carbon Filter, Ultra Filtration and Softeners to produce clean, clear and hardness free water for reuse in industrial and horticulture application.