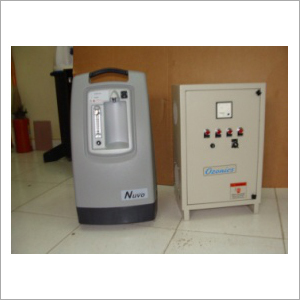 Pool Ozonator
Product Description
Pool Ozonator is a type of water sanitizer which is used for removing chemical impurities from the swimming pool. We are the trusted manufacturer and suppliers of the excellent quality Ozonator. It works by generating ozone gas which is released in to the pool, where it breaks down into oxygen (O2) and monatomic oxygen (O) which later oxidizes the impurities and microbes. This activity results in the death of bacteria and viruses present in the water. Pool Ozonator reduces the chemical amount of water by replacing chlorine compound.
Features:
Has strong penetrating effect


Capable of removing tapeworm larvae


Consists of an aerator at the end of its hose

Ozonator
Disinfection of Swimming Pool Water by Ozone is the most effective way to kill germs and bacteria. Use of Ozonator reduces the use of traditional chemicals between 60 to 90 % and improves Swimming Pool Filter efficiency.
Swimming Pool Ozone generator is supplied with high barrier quartz electrode, Oxygen Concentator and Ozone miximg venturi.
Available in the range of 5 gms/hr to 100 gms/hr to choose, depending on the capacity of Swimming Pool.