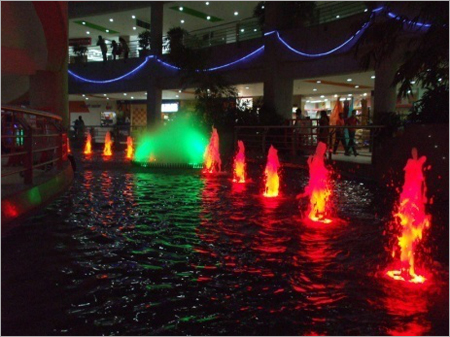 Graphic Water Curtain
Product Description
Graphic Water Curtain is used as a decorative installation in shopping malls, resorts, hotels, and banquet halls. This curtain is capable of making various images, names, characters, and designs completely with water itself by using water writing technique. Graphic Water Curtain comprises a programmed system for controlling pressure on nozzles to provide a unique & eye captivating appearance. Before being approved fit for use, it has been tested on various performance parameters to assure its error free operation.
Features:
Gives attentive appearance

Precisely programmed

Easy to install
Graphic Water Curtain.
We are a manufacturers and suppliers of high quality water fountains and equipments.We provide all variety of indoor and outdoor Fountains like Garden Fountain, Stone Fountain, Water curtain, Bubbler Fountain,Water Blade Fountain,etc.