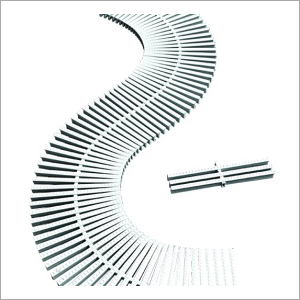 Swimming Pool Overflow Gratings
Product Code : 06
Product Description
Swimming Pool Overflow Gratings are made with the supreme quality of ABS thermopolymer using the latest technology in compliance with the predefined quality standards. They are used as a cover on the overflow channel of the pool. These gratings are designed having multiple bars parallely welded to a central line having specific gaps in between to assure safe walking over them. Swimming Pool Overflow Gratings also minimizes the overflow of water and can be availed in customizable specifications as demanded by the customer.
Features:
Can withstand effects of pool chemicals


Corrosion resistant
Swimming Pool Vacuum Fitting
Swimming Pool Vacuum Fitting made of ABS and fitted with removable plug. It is used where vacuum hose is to be fitted.

Size : 2"
Flow Rate : 150 LPM